THE CLASSIC
WITH GREAT NEWS!

All-New Console and
New Contact Undelete!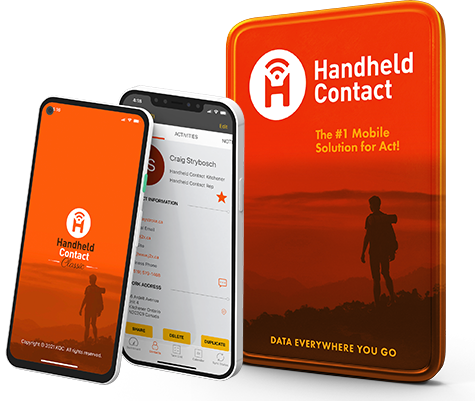 THE FASTEST & EASIEST WAY
TO CONNECT WITH ACT!, ANYWHERE!
NOW AVAILABLE FOR MAC
Handheld Contact Version Comparison Chart

WIRELESS SYNCING

Supports more than one device per account

Supports mapping, quoting, advanced searches, accounting integration, mail merge, and more

Supports Contact Undelete

Requires Windows Console

Available for both Android and iOS users.

FAST SYNC AND TRANSFER

Total number of Act! contacts that can be synced to device (in addition to Activities, Opportunities, Secondary Contacts, Notes, and Histories)

Unlimited

Unlimited

Unlimited

15K

15K

Syncs directly with database for faster, more frequent updates of more data

Unlimited Wireless syncing

Changes to calendar are written immediately to Act! database when online

Email or SMS one or more contacts while recording History that writes back to Act!

E-mail support and self-service knowledge base included

Sync up to 50 custom fields

Keyword searches for fast contact lookups

Manage ACT! data from HHC on mobile device without WiFi or network internet access

Picture Transfer

Reminders

Enhanced Opportunity management

SECURE CONNECTION

Syncs securely using 128-bit encryption

MANAGE ACT! IN YOUR MOBILE

Adds another layer of security to help protect your Act! data from unauthorized access.

HHC admin control application lock, password attempts, and wipe all local HHC data.

HHC admins enjoy better control over Secure+ users and improved notifications.

Local HHC data on the device is encrypted.

Prices

$129.95
per yr/user/device
= Included
= Partially Included
= Excluded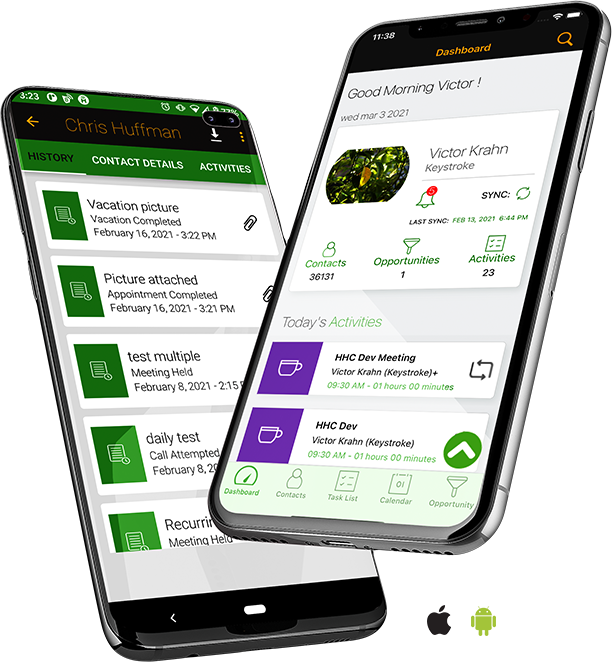 The fastest & easiest way
to connect with Act!, anywhere!
Sync directly with the database, and get more updates of more data,
faster, and on more devices than before!
Manage your contact with ease, and schedule your activities like you would in Act!
Handheld Contact is so feature-rich & easy-to-use, you may never open Act! again!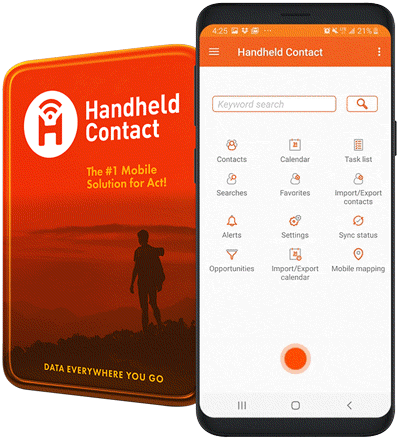 The Mac Client you've
been waiting for
Sync directly with the database,
comfortably from your Mac!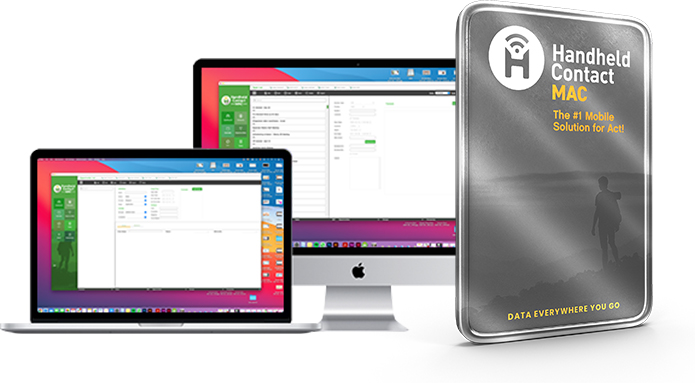 Purchase the MobileCare Support Plan to compliment Handheld Contact e-mail and knowledgebase support. Priority service with individual telephone support with a certified trained HHC technician.