Our
Handheld Contact API
Sync more data, more frequently, on more devices without costing you more.

Handheld Contact API is our newest mobile client, which will be launched in Q1 of 2020, that can sync directly to the master Act! database for faster updates, more data, and can be used with multiple devices at no extra cost.
This is the update our customers have been waiting for!

Wireless syncing of contacts, calendars, task lists, opportunities, notes & histories


Fast setup with no computer software to install or configure

No Windows Console needed, syncs directly with master database using the Act! WebAPI

No contact limit

Sync with multiple devices per account

New Dashboard


Modern new look
The first release of Handheld Contact API is for IOS users only, and we expect the Android version to be released in Q2. All Handheld Contact API users will require a current Act! subscription to use the WebAPI, and be assigned "WebAPI" permission in the Define Users section of their database. Please consult your Act! Administrator on this.


See our quick video walk through of the new setup process HERE.

As you can tell from the above video, minimal setup is required as users simply enter their database credentials & location, specify the group they wish to sync to, as well as the fields they want included, and the syncing begins immediately. Some features like quoting and mobile mapping will be added over time with subsequent updates. No more waiting for the HHC Console as long queues could lead to delays in updates. Handheld Contact API waits in line for no one, as all users & all devices get their updates directly from the source, immediately.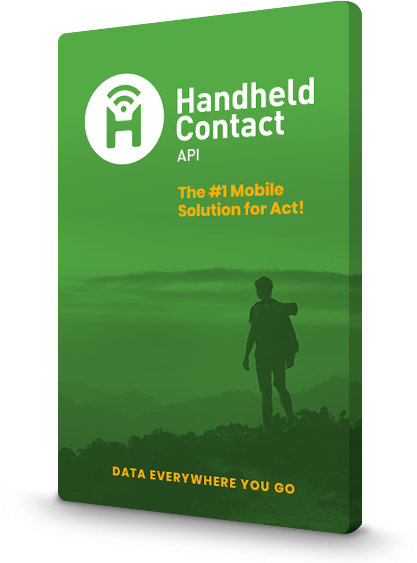 Expected to be released in Q1 of 2020
Like with all new technology, there are some features that will evolve over time as the Act! WebAPI matures & develops, and our obligation with this subscription service is to actively shrink the feature gap as quickly as possible. That said, some things are not within our control, and users should take note that the API provides limited configurable controls over who gets what data on their devices. While we've implemented syncing to groups, we cannot enforce which group a users selects to sync with. The absence of the Handheld Contact Console does simply setup, but it also limits some of the centralized security Administrators have long enjoyed. If this remains a priority for your organization, we recommend continued use of our legacy version.

The following is a feature comparison of the three versions of Handled Contact we offer.

HHC Feature Comparison by Version
Feature Comparison (updated as of January 2020)

Handheld Contact

HHC Secure
Plus

Handheld Contact API

Act! Supported Releases

Act! 2005+

Act! 2005+

Act! v18+

Act! Supported Versions

Act! Pro

Act! Premium (perpetual)

Act! Premium (subscription)

Offline data access

Requires a separate Windows Console to be installed & configuired

Max number of supported devices per account

1

1

unlimited

Supported Mobile Platforms

Apple (IOS)

Android

Blackberry OS

Max number of supported contacts

45k

45k

unlimited

HHC base package includes up to 15K contacts, with another $30K available for an additional $35 more

Manage Contacts

API product has full access to contact details (up to 50 custom fields). Please note, Contact & Activity deletion is supported in the API product, but contacts/Activities deleted in Act! do not get updated in device due to current API limitation.

Manage Calendar

Please note, Contact & Activity deletion is supported in the API product, but contacts/Activities deleted in Act! do not get updated in device due to current API limitation.

Manage Opportunities

Scheduling

Lookups/Searches

Normal Contact List & Keyword Searches are available in the API product, but the Saved Searches feature is not currently available.

Telephony

Email

SMS

History & Notes

Mapping

Quoting & Invoicing

Requires Login

Offline Notifications

Access to Secondary Contacts

Homescreen

There is no Home-screen now with the API product, but we implemented a new Dashboard in it's palce

Import/Export to Mobile Devices native Address book

Import/Export to Mobile Devices native Calendar

Optimized for Tablet use

Favorites

Hipaa compliance

HHC Secure+ meets the Hipaa compliance standards at time of publishing

Annual Cost

$79.95

$129.95

$79.95
= Included
= Not Included
= Partially Included